Your Sixty Second Guide to what we have to offer !
Full day coverage from £599
Best like-for-like prices guaranteed
Professionally accredited
Recommended by most local venues
Seventeen years experience
Friendly, relaxed, contemporary style
No additional travel costs
Award winning in UK and USA
Fully contracted services
Only 10% deposit needed for booking
All portfolio images are yours to keep for free
That's it in a nutshell ….. just send us a quick no-hassle, no obligation enquiry HERE and we'll check availability for you !
---
Relaxed, non-scary wedding photography ?
Established as professional wedding photographers since 2002, Nene Digital Weddings have the experience and know how to provide you with top quality, professional coverage of your wedding day but in a very relaxed, informal style which we like to think makes us very easy to work with …… we aren't going to scare you on your special day !
Our goal with every wedding we cover is to try to capture the real atmosphere and emotion from your wedding day but without adversely affecting it in any way. Our style is very much non-stuffy, non-scary and relaxed and consistent feedback suggests we do achieve a nice balance between professionalism and relaxed informality.
Of course, you may also like the fact that we check our prices regularly and guarantee the very best prices around …. by a huge margin !
What is included in our photography packages ?
We offer two simple wedding photography packages but we also offer an ad-hoc menu to help you craft your own package if you prefer.
Our coverage is always full day from bridal preparations through to just after the first dance and we don't cut any corners with the final portfolio images …. they are all fully and professionally optimised to bring the very best out of them. Unlike many of our competitors, we will return these images to you at the end of our work, in high resolution and free of any copyright restrictions so you can use them in any way you want. There are absolutely no hidden costs and no sneaky small print in anything that Nene Digital Weddings offer ….. we'll even give you an additional DVD with print-ready versions of the images just to make it easier for you to obtain quality prints !
---
What couples have had to say about Nene Digital Weddings
"Paul delivered a top quality service with wonderful images and a stunning album and just as important to us both, he achieved it all without having any negative impact on our day – in fact we loved having him involved!"
"Absolutely thrilled with the whole Nene Digital Weddings experience from beginning to end. We were really nervous about photos as neither of us like cameras but it was so relaxing and the photos are wonderful. Thank you!"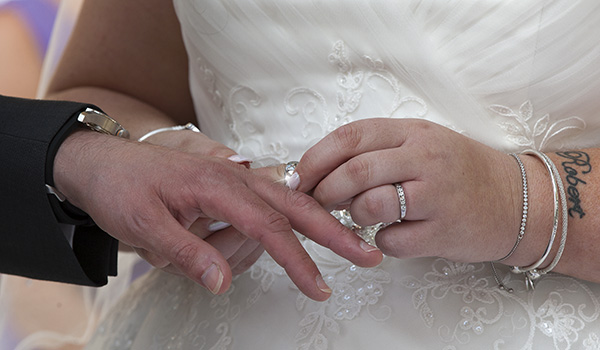 Want to know how we might shoot YOUR wedding day ?
As your wedding photographer, our passion is to deliver a top quality, professional service but in a relaxed and non-scary manner that works with your wedding day plans and doesn't adversely impact on them ….. we are there to capture your day and not to change it !
Good wedding photography to us is all about capturing not just the images from your special day but the atmosphere and emotions surrounding it too and we will work with you to create the very best opportunities to achieve that in a natural and relaxed way.
Check out a selection of photographs from recent weddings
Relax, grab a drink and have a browse through a small selection of our photographs from recent weddings.
We may be able to provide full online wedding galleries for your venue if we've had chance to work there as a photographer in the past so don't be afraid to get in touch and we'll see what we have available!
Of course, if we get chance to come out and meet you then we'll bring a number of full wedding albums for you to look through as well as a portfolio of professionally produced prints.
---
National Accreditation
Our wedding photography services are fully backed by membership of the Society of Wedding and Portrait Photographers, the British Press Photographers Association and Wedding and Portrait Photographers International
Local Accreditation
We are very proud to be supported by a number of top local wedding venues who recommend Nene Digital Weddings as "preferred suppliers". These include Orton Hall, The Bell @ Stilton, Sibson Inn, Peterborough Marriott, Highgate House, Wisbech Castle and many more !
Join us on Facebook
Check out our Nene Digital Weddings Facebook page where you can follow our wedding season, check out our latest bookings, see our very latest images and be in the right place to take advantage of our latest wedding photography offers.
---